Shopping Cart
Your Cart is Empty
There was an error with PayPal
Click here to try again
Thank you for your business!
You should be receiving an order confirmation from Paypal shortly.
Exit Shopping Cart
Shen Academy of Kung Fu & Qigong
ART OF SELF MASTERY * SCIENCE OF SELF-IMPROVEMENT
| | |
| --- | --- |
| Posted on January 15, 2011 at 3:08 PM | |
Despues de 38 años de excelente cobertura de los artes marciales chinos, la revista Inside Kung Fu a sido cancelada. Una seña mas de que los artes marciales chinos tradicionales siguen desapareciendo mientras los deportes y espectáculos marciales siguen creciendo. La ultima publicación será la de Febrero 2011. 
Veo como pasan los anos y como el mundo cambia, y que lo que nos decían los antiguos maestros ase varias décadas se sigue manifestando... la gente no tiene interés para lo profundo, lo tradicional, lo que requiere de mucho trabajo, esfuerzo y dedicación. Ahora yo soy uno de esos viejos, veteranos en el kung fu, reliquias de un pasado hermoso, una distante memoria que mas y mas parece haber sido un sueño grandioso. Al ver el kung fu, wushu, mma, los artes marciales hoy en día, y lo que se ha perdido y se sigue perdiendo, me lleno de tristeza y de un sentido de impotencia.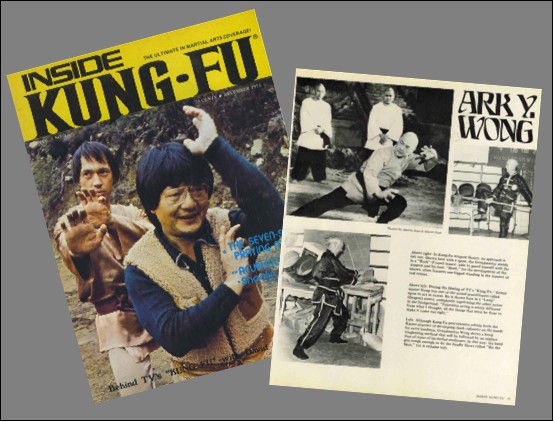 Portada y Reportaje sobre GM Ark Y. Wong en la primera edicion de Inside Kung Fu - 1977
En el año 2006 tuve el honor de que la mejor revista internacional dedicada a los artes marciales chinos, Inside Kung Fu, publicara mi articulo sobre el estilo Ng Ga Kuen. Despues hubo varios mas, Tengo la distinción de haber sido el único autor en la historia de la revista de ser publicado un articulo bilingüe ingles/español, lado a lado en la misma edición. Esto se volvió a repetir y fueron dos reportajes bilingües.  Estábamos trabajando en el tercero al cerrarse al revista. 
El mundo es cambio y debemos de asimilar y aceptar los cambios que llegan. Algunos seguimos peleando y defendiendo nuestra tradición, tratando de que se reverse la corriente y que vuelvan a florecer.... pero eso ya nunca será, y si sobreviven, será en una forma diferente, ya que el cambio afecto a todo y a todos. 
Adiós a Inside Kung Fu, revista que me acompaño en mis inicios en el kung fu y cual me ayudo a conocer mas sobre ese mundo tan bonito de los antiguos artes marciales chinos tradicionales.
Categories: None
/