Shopping Cart
Your Cart is Empty
There was an error with PayPal
Click here to try again
Thank you for your business!
You should be receiving an order confirmation from Paypal shortly.
Exit Shopping Cart
Shen Academy of Kung Fu & Qigong
ART OF SELF MASTERY * SCIENCE OF SELF-IMPROVEMENT
| | |
| --- | --- |
| Posted on June 8, 2011 at 10:39 AM | |
Mi maestro de Choy Lee Fut KungFu a menudo solía repetir esta frase, casi como una mantra .... "Lo que cuenta es lo que se hace la mayor parte del tiempo y no lo que se hace de vez en cuando". Estasimple afirmación es de hecho un principio de gran alcance, que alcomprenderla, como una bofetada me despertó de el sueño de auto-justificación que tendemos a caer en cuando menos lo esperamos.
Me tomó algún tiempo el entender el significado básico de esta declaración y sé que algunos de mis compañeros nocomprendieron y en vez rechazaron esta importante enseñanza.  El significado sencillo es quecualquier cosa que hagamos más seguido, es lo que afectara mas a nuestra vida.Fácil de entender, ¿verdad? Algunos podrían decir que es obvio o que  es simplemente sentido común. Bueno, elsentido común no es tan común y la humildad y sencillez de estas palabras esconden gran sabiduría.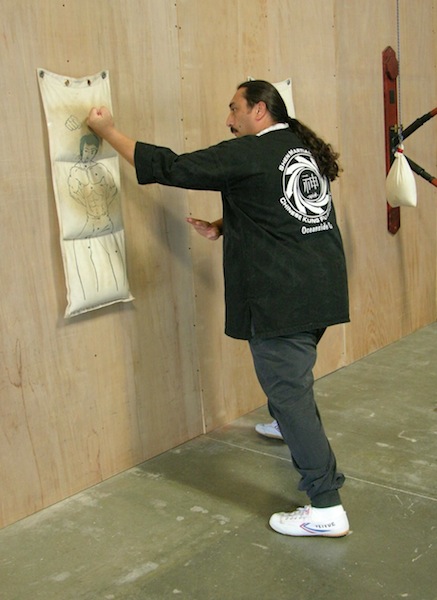 墻包樁 - Saco de Pared de 3 NIveles - Cheung Bau Jong





La realidad es que la mayoría dela gente no sabe qué es lo que lo hacen con la mayoría de su tiempo. Pensamos oimaginamos que lo sabemos, pero al examinar más detenidamente, nos damos cuenta que lo que creemos hacer "con normalidad o " regularmente " noes en realidad lo que hacemos. Eh? Sí, así es…. Tu el lector, haces cosas queno admites hacer y te auto-convences que haces cosas  que quisieras hacer, pero que en realidad no haces. Uff! Sino estabas confundido antes, seguro que ahora si lo estas.

 

En  el Kung Fu, si se le pregunta a cualquier practicante conqué frecuencia y por cuánto tiempo entrena, es sorprendente la gran frecuenciay duración en que entrena todo mundo! La respuestas comunes son: "6 vecespor semana 4 horas por día", "3 horas al día, todos los días exceptolos domingos", "A diario 4 a 5 horas". Wow! Si todo el mundo sededicara a su entrenamiento de ese modo, todos fueran Gran Masters! Nos estánmintiendo estas personas? No y sí. Ellos se están mintiendo a sí mismos. Ese será tal vez su horario de ver televisión, pero no es su régimen de entrenamiento de kung-fu. Sin embargo, es lo que quisieran que fuera, y lo quese auto-convencen que es. Y, por cierto, todos hacemos o hemos hecho esto deuna manera u otra….. TODOS, su servidor incluido.

 


Así que la pregunta siguiente esobvia ... ¿Por qué? ¿Por qué hacemos esto? Se trata de una cuestión compleja que tiene una respuesta sencilla .... porque pasamos mucho de nuestro tiempo medio dormidos, actuando en piloto automático sin estar completamente conscientes del momento, no completamente despiertos, y así pasan las horasmientras nos involucramos en cosas de poca importancia, en pasas tiempos,diversiones y entretenimientos que nos entorpecen la mente. Y cuando el tiempopara actuar y hacer algo de valor viene, decimos " No tengo tiempo ".

 

El primer significado de el mantra de mi Sifu es: Despierta! As más a menudo las cosas que importan deverdad, que son de verdadero valor. Llena cada momento con la acción adecuada, incluso cuando la acción es el descanso o el hacer nada. Elige cómo gastar cada momento, no dejes pasar el tiempo sin que te des cuenta. Se cuidadoso,auto-examínate y verifica que no vives en una ilusión o en una fabula, que tuvida y tus logros son reales.

 

Para mis hermanos y hermanas en el kung fu en donde se encuentren, el kung fu es la verdadera, repetida, constante y continua práctica. Mi Sifu tenía otro mantra, "Práctica, práctica, práctica". No creas practicar, no sueñes con practicar, no esperes a que se te de el tiempo para practicar ....... PRÁCTICA.  Como Nike lo dijo tan elocuentemente..... "Just Do It!", "Solo Hazlo!"

 

Cuando tus acciones selectas sean lo que haces mas con frecuencia y regularidad, los resultados de esas acciones serán sorprendentes, tal vez increíbles, siempre reales.

Categories: None

0

/