Shopping Cart
Your Cart is Empty
There was an error with PayPal
Click here to try again
Thank you for your business!
You should be receiving an order confirmation from Paypal shortly.
Exit Shopping Cart
Shen Academy of Kung Fu & Qigong
ART OF SELF MASTERY * SCIENCE OF SELF-IMPROVEMENT
| | |
| --- | --- |
| Posted on December 4, 2010 at 12:47 PM | |
Ultimamente e recibido varios mensajes en los cuales se critica lo que hago bajo la SKFIA (Shen Kung Fu International Association). Eso en si no tiene nada de malo, ya que la critica es natural y haga lo que se haga, no se le puede dar gusto a todo mundo. Solo que estos mensajes van mucho mas aya de la critica y en vez son ataques y ofensas con el propósito de desacreditar nuestros esfuerzos en la difusión de el kung fu tradicional. 
Desafortunadamente, este tipo de difamación es lejos de ser rara, se a tornado común en las artes marciales, el resultado que el valor de estas se baje y que se vean mal a los ojos de el publico en general.
Que es lo que pasa? Por que si promovemos el respeto, la humildad, la hermandad hay tanta discordia, tanta envidia, y tanta soberbia? Maestros, si son ustedes los que participan en este tipo de falta a los mismos valores que deben de promover y de vivir..... no solo no merecen ser llamados maestros, no deberian de enseñar. Y si como muchos maestros, no son ustedes los que se ensucian las manos pero permiten que sus alumnos sean los que extiendan negatividad pensando que "defienden" a su escuela, o peor, los motivan y alientan a agredir y subajar a los demas, pues que mal le hacen a los artes marciales, y a sus alumnos y que defraude para el lineaje y la tradicion a la que pertenecen. 
Si hay alguna pregunta sobre mi entrenamiento, sobre mi lineaje, sobre que represento, que enseño, todo se a tratado de explicar en esta pagina para el beneficio de cualquiera que visite por cualquier razon, sea curiosidad o interes en nuestro grupo. Si algo no esta claro, se me puede preguntar tanto a mi como  a cualquier miembro de el grupo. Si hay algun desacuerdo, alguna queja, algo que creen que esta puesto en error, pueden comunicarse conmigo para dialogar. 
Estamos en la era del Internet y es facil mandar correos o mensajes ofensivos y defamatorios sin tener a la otra persona al frente. Pero eso no es la forma en que se comporta el arte marcialista, la faja negra, el instructor o el maestro  o el represenante de un Gran Maestro chino. Mas sencillo, no es de hombres.
Asi que aunque no le debo explicaciones a nadie y mucho menos a los que quieren difamarme, para el beneficio de mis alumnos, de aquellos que esten interesados en saber un poco mas sobre quienes somos, y para no dejar dudas, aqui esta:
Mi lineaje en el Choy Lay Fut: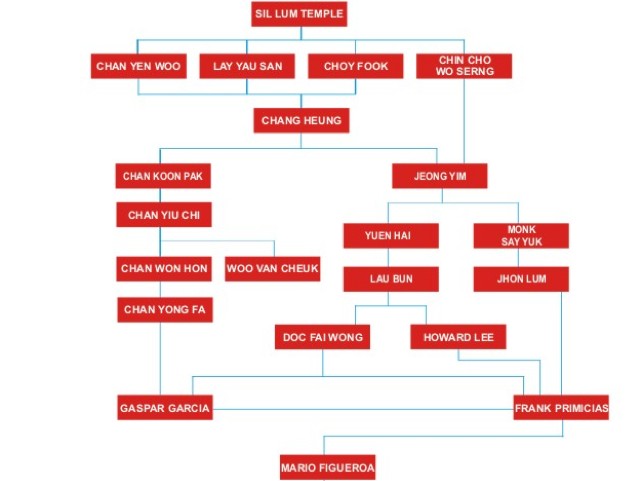 Mi maestro en Choy Lay Fut es Frank Primicias y a sido mi honor y mi gran fortuna haber aprendido de este gran maestro. Nunca y en ninguna parte a dicho o tratado de aparentar otra cosa. Mantengo fuertes enlaces y amistades con maestros y practicantes de otros lineajes de Choy Lay Fut como Master Tat Mau Wong (Discipulo de Gran Maestro Lee Koon Hung), Sifu Thomas Fuhr (Master Nacional Familia Chan y miembro de el Wing Sing Tong), y Sifu Giovanni Antonietta (Discipulo de Gran Maestro Poon Sing) y muchos mas con quienes comparto y exploro mi arte marcial.
Llevo 35 años entrenando kung fu tradicional. Lo que yo enseño es lo que yo e aprendido de todos mis maestros y lo comparto con quienes tengan interes en aprenderlo sea en Mexico, Chile, o en cualquier parte del mundo. 
Los ultimos 10 años me e dedicado al 100% a el desarroyo de mi kung fu. No en parte sino a tiempo completo, no como la mayoria de practicantes que practican 1 o dos horas 2 o 3 veces por semana, si no tiempo completo, de mañana a noche dedicados al estudio, desarroyo, investigacion, enseñanza y aprendisaje de mi kung fu. Aquellos que tiene tiempo de rastrear el internet y encontrar a quienes ataquar y ofender deberian dedicar mas tiempo a su entrenamiento y aprendisaje ya que claramente no tienen concepto de lo que es el kung fu verdadero y no an aprendido a los ideales del respeto y la humildad. 
E tambien tendio la oportunidad y fortuna de explorar  otros estilos de arte marcial con grandes maestros algunos famosos, otros anomimes por preferenica. Sin embargo no menciono esos estilos ya que me considero de un nivel suficiente y no son estilos a los que me e enfocado. No como muchos maestros que al leer un libro o ir a un seminario ya lo ponen en su curriculum.  Orgullosamente menciono que aparte de el Choy Lay Fut, enseño 5 Animales / 5 familia o Ng Ga Kuen de el lineaje de Gran Master Ark Wong al que e dedicado gran parte de mi aprendisaje y el estilo que me introdujo a las artes marciales chinas. Ademas llevo 6 años en el aprendisaje de Chow Gar Praying Mantis del sur, bajo Master Paul Whitrod de Inglaterra, el cual espero algun dia poder representar adecuadamente.
Mi lineaje en el Ng Ga Kuen: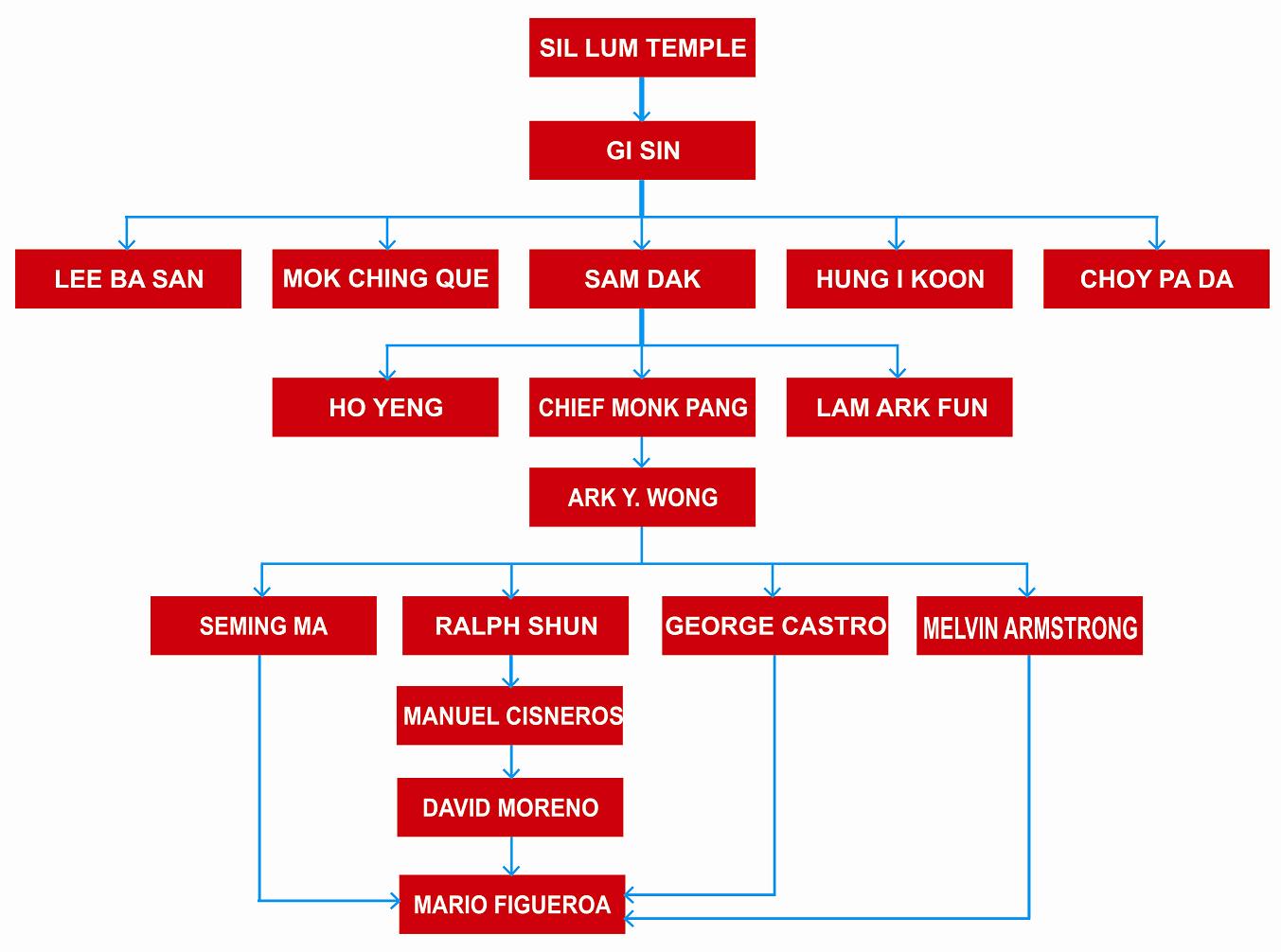 Sin embargo, las acusasiones y ofensas son dirijidas a mi enseñanza de el Choy Lay Fut, particularmente la labor de difusion que se a llevado acabo en Mexico. En particular, miembros de una rama de Choy Lee Fut creen que si no se es parte de su organizacion o franquicia, no es el estilo auntentico y que en Mexico solo ellos tiene el derecho de difundir este gran estilo.  
Mi respeto y admiracion por los Grandes Maestros es grandismo al igual que mi agradecimiento por su trabajo en la difusion de el kung fu. Por eso me es tan triste que ese respeto no se corresponda a nuestra contribucion a esa causa. La realidad es que yo y nuestra organizacion, SKFIA brindamos otra opcion. Somos un grupo independiente con un programa de enseñanza diferente que creemos es de mucho beneficio ya que hemos visto en nuestros integrantes alcanzar un nivel alto en su expresion de el kung fu y un conocimiento profundo sobre su significado, su proposito y su uso. El Choy Lay Fut es solo una parte de lo que ofrecemos, aun asi es este es diferente a lo que se representa por las 2 grabdes organizaciones internacionales.
Nuestro Choy Lay Fut biene primeramente de Gran Master John Lem primeramente. El aprendio en el templo Wing Foon. Ahi se enseñaba un estilo dominado por San Sau, o tecnicas de aplicacacion de combate y con pocas formas. Sin embargo mi maestro tambien aprendio de Master Howard Lee, uno de los alumnos mas antiguos de Gran Master Lau Bun de Fut San Hung Sing Choy Lee Fut. Ademas el fue alumno de muchos años de Gran Master Share K. Lew, el sobrino de Lau Bun quien ademas fue monje en el monasterio Wong Lung Kwan en la montaña Luo Fo en Guanzhou. De aqui viene mucho de nuestro Chi Kung. La influencia de Fut San Hung Sing Choy Lay Fut es fuerte y tenemos formas, tecnicas y practicas de ese lineaje. Mi maestro se dedico a el Choy Lay Fut y para seguir avanzando busco a el maestro Doc Fai Wong donde aprendio un numero de formas que tambien se inegraron. Finalmente, se incorporaron conocimientos de la familia Chan bajo Master Gaspar Garcia quien aprendio directamente de Gran Master Chen Yon Fa. 
Sin embargo el Choy Lay Fut de el templo Wing Foon forma la mayor parte de nuestra enseñanza, de eso que no quede duda. A final de cuentas, Choy Lay Fut es Choy Lay Fut, y todo biene de la misma raiz y de el mismo arbol. 
Continua......
Categories: None
/